Mortgage rates for 30-year fixed mortgages rose this week, with the current rate borrowers were quoted on Zillow Mortgage Marketplace at 3.42 percent, up from 3.28 percent at this same time last week.
After jumping to 3.45 percent on Friday, the 30-year fixed rate stayed flat over the remainder of the week, falling to the current rate this morning.
"Mortgage rates spiked to a 5-month high last week as markets reacted to positive domestic and international economic news. Another strong weekly jobs report suggested the U.S. economic recovery is picking up steam," said Erin Lantz, director of Zillow Mortgage Marketplace. "Abroad, markets welcomed news that many banks were planning to pay back the European Central Bank earlier than expected, suggesting some underlying strength in a European economic recovery.
"If we continue to see the steady stream of strong economic indicators this week, we anticipate rates will rise slightly higher," added Lantz.
Additionally, the 15-year fixed mortgage rate this morning was 2.71 percent, and for 5/1 ARMs, the rate was 2.43 percent.
What are the rates right now? Check Zillow Mortgage Marketplace for up-to-the-minute mortgage rates for your state.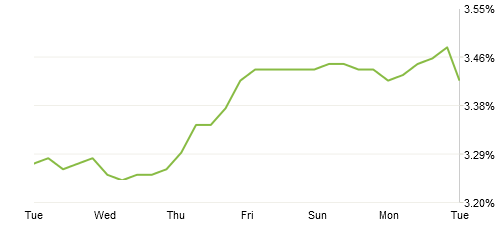 *The weekly rate chart illustrates the average 30-year fixed interest rate in six-hour intervals.