Rick Grimes and his band of survivors can be seen fighting "walkers" Sunday nights on AMC's hit show "The Walking Dead." But with each apocalyptic turn, curiosity about the living — and the living's real estate — remains.
Does anyone actually live in that old farmhouse? What about that 1900s bungalow that Rick once called home?
The show is filmed in Georgia, with most of the homes in prime position for gawking fans (and perhaps the occasional zombie). Take a look at these Southern properties featured on "The Walking Dead."
Rick's house
817 Cherokee Ave SE, Atlanta, GA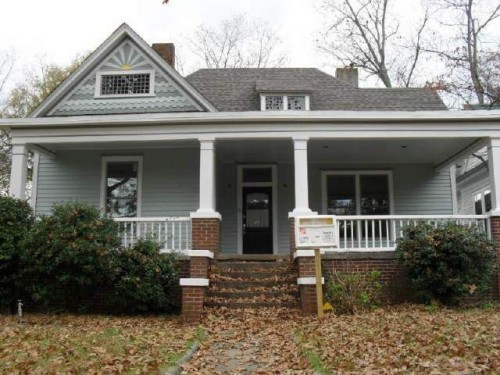 This 1903 Atlanta home was last purchased in July 2008 for $177,000. Originally 1,984 square feet, the bungalow has undergone major renovations — perhaps to recover from the show's Season 1 premiere.
After getting shot at the scene of a high-speed pursuit, Rick, played by Andrew Lincoln, wakes up in a hospital bed unaware of his surroundings. Exiting the room, he tries to use the hospital phone, but there's no dial tone. That's when Rick sees a dead nurse missing half her skin. He escapes the gruesome scene to Grant Park, where he finds a bicycle and rides home. Unlike the inviting 3-bedroom home pictured above, however, Rick finds his front door ajar and the house deserted.
Hershel Greene's farm
The Georgian classic above is a private property at the end of a dusty country road in Senoia. The house makes a memorable impression with a large wrap-around porch, characteristic of farmhouses in the rural South. It's also hard to forget "The Walking Dead" Season 2 opener filmed here.
Rick's son, Carl, is shot, and Otis directs them to the estate of Hershel Greene, a former farm owner and veterinarian who has lived on the land for many years with his family. All eyes are on Hershel, played by actor Scott Williams, to see if he can save Carl's life. As the season unravels, Hershel feels obliged to shelter Rick and the other survivors in the large estate.
Morgan's house
Don't be distracted by the for-sale sign in the photo of this 1,906-square-foot house. The property was sold in September 2011 for $338,000. The listing describes it as a "gorgeous home with tons of upgrades" as well as proximity to Grant Park and Zoo Atlanta. But perhaps the biggest selling point of the home is its fictional owner, Morgan Jones, played by Lennie James.
In the show's first episode, "Days Gone Bye," Morgan heads to Atlanta with his family in search of military protection following a water outbreak. When a walker attacks his wife, however, Morgan is forced to seek help in Rick's hometown. Morgan meets Rick when his son hits him in the head with a shovel, claiming he was protecting the disoriented gunshot victim from a walker in the neighborhood.
The farmhouse
This abandoned-looking farmhouse is located right off Georgia Highway 11 near County Line Trail. After running out of gas in the first episode, Rick abandons his car on the highway and walks up to the house. Approaching the property, he realizes that a man has shot his wife and committed suicide. Rick quickly moves away from the disturbing scene, finding a horse that he rides back to Atlanta.
Related: